Based on their expertise in Aesthetic Medicine, VIVACY Laboratories are launching a professional line of anti-aging dermocosmetics with hyaluronic acid and antioxidants.
This precise and targeted range today includes a Soothing Skincare Spray "LE MIST" (Treignac Natural Mineral Water), a post-procedure Soothing Repairing Cream and two specific products for daily skin maintenance: Cell Regenerating Serum and Anti-aging Restructuring Cream.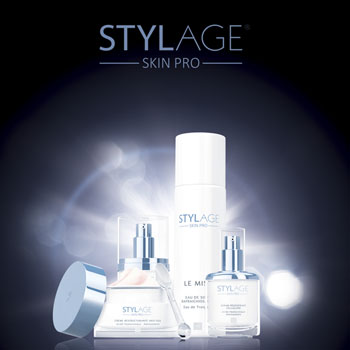 All formulations are based on the exclusive "VIVASÔME®" complex, a result of the VIVACY's advanced research. Acting as a true "carrier" of active ingredients through the cells, VIVASÔME® nourishes and revitalizes the skin, stimulates its natural repair process and intensely moisturizes it for a premium anti-aging protection.
One of the ingredients at the heart of these innovative formulations that also attracts particular attention is Treignac Natural Mineral Water.
EXPERT ADVICE: Pr Jean SAINT LAUDY
Doctor of Pharmacy degree and Immuno-allergologist; Head of Allergy & Immunology Laboratory of Limoges University Hospital; Expert and author of numerous publications in Allergy and Immunology.
What makes Treignac Water so unique?
"Treignac Natural Mineral Water is a true natural asset. Its originality, first of all, can be explained by the unique and protected environment of Treignac, far from any source of pollution. Known as "miraculous" since ancient times, it was reputed to heal eye and skin problems.  Treignac Water is drawn in a coniferous forest, after being naturally filtered in non-calcareous granite sand soil, which gives it its unique properties: a weak acid pH (pH 5.6), a very low mineral content (20 mg of dry residue) and a very high proportion of silica in the form of orthosilicic acid (33%). This feature explains the purity of Treignac Water and identifies two potential properties: • Hydration and silica applications. • Formation of a protective film of silicon hydroxide leading itself to anti-inflammatory properties.
Treignac Water spray is packaged in sterile block on the same place of emergence from the source, which guarantees a product with biological purity and efficiency absolutely intact. It can therefore be used safely during medical aesthetic procedures.
A recent dermatological study on 39 patients (35 women aged from 22 to 83 years and 4 men aged from 19 to 63 years) showed a remarkable film-forming power of Treignac Water. Its skin protective effect explains the clinical results observed when applied both on healthy (comfort, softness) and sensitive skin (reactive or irritated) after one month of treatment (applied twice daily), and resulting in diminishing or significant disappearance of subjective and objective symptoms such as the burning sensation, skin tightness, pruritus or erythema. As a consequence, we can conclude with certainty that Treignac Natural Mineral Water has its place in Dermocosmetics."
Soon available on www.stylage-skinpro.com
*Effect of Treignac water on facial erythema one hour after the spray application. Unretouched photos