Press release: Sharon Stone partners with Galderma in global campaign to prove natural looking results of aesthetic treatments in real life.
For more information on the "Proof in Real Life" campaign visithttp://www.ProofIRL.com/
• Restylane® fillers and Restylane Skinboosters™ will be put to the test in a unique campaign by Sharon Stone
• Details of the challenge and the results will be unveiled at a live event in May
• The initiative aims to build trust in aesthetic treatments by demonstrating natural-looking results of Restylane in real life
28th March, 2015, Monaco: Today, Sharon Stone has embarked on a global campaign with dermatology company Galderma to make aesthetics more accepted and demonstrate natural-looking, real life results of Restylane fillers and Restylane Skinboosters. It is the first time a global celebrity has featured in a campaign for aesthetic treatments.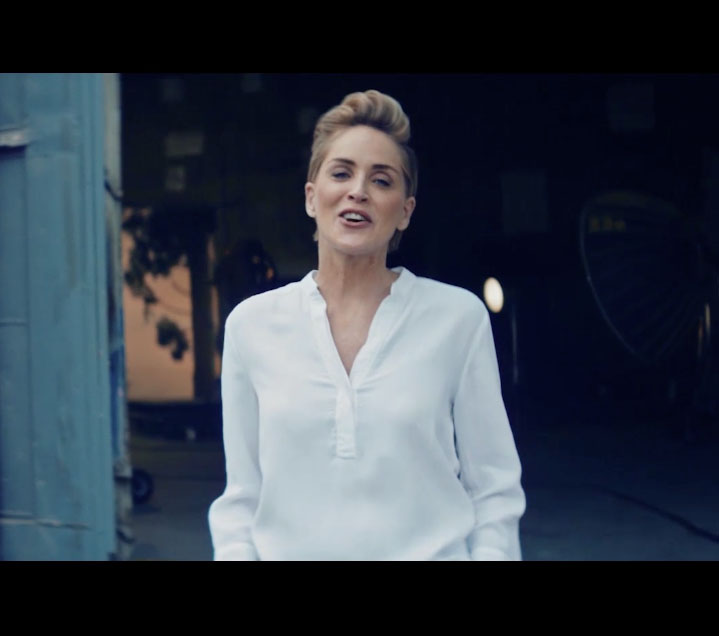 More than 23 million people13 underwent aesthetic treatments globally in 2013, and many more are curious but are concerned that such treatments can produce extreme and unnatural results. The new campaign aims to prove that aesthetic treatments can enhance your natural looks by demonstrating the results of Restylane fillers and Restylane Skinboosters in real life. Restylane products use a component found in the skin called hyaluronic acid and Galderma uses a unique technology to incorporate this ingredient – meaning it differs only slightly from your skin's own natural hyaluronic acid – for safe and natural-looking aesthetic treatments.
Sharon Stone, said: "I am excited about Galderma's new and innovative aesthetic techniques to create natural-looking results. I am looking forward to working with the company to make aesthetic treatments more accepted. It is inspiring when science meets beauty in such an effective way and I'm sure people will be impressed with the natural looking results of Restylane fillers and Restylane Skinboosters that we will reveal at the Real Life Event."
Recent research by Galderma found that almost nine out of ten patients (87.1%) choose aesthetic treatments for a feel-good boost as they head into middle age. Yet people want realistic looking results, with 51.1% of practitioners saying their patients only want to look younger by 5 years or less. (12)
Anne-Sophie Copin, Global Head of Skin Rejuvenation Aesthetics & Corrective, Galderma, said:"Almost 70% of the practitioners we work with reported that their patients most fear looking unnatural (12). We want to shine a light on the subtle and natural-looking results of Restylane fillers and Restylane Skinboosters, and because we know it is hard for people to trust an image, we will demonstrate results people can trust, in a real-life format. We hope to challenge outdated perceptions and empower more people to make an informed decision."
Galderma, which makes Restylane, is known for its innovative and highly trusted medical solutions for the skin over the last 20 years. Restylane filler treatments provide an instant result but their effects can last up to 12 months depending on the treatment area. (11) Restylane Skinboosters are especially designed to deliver lasting moisturisation and improvements in the skin. Restylane Skinboosters are clinically proven to improve skin quality on the face, neck, hands, and décolletage (2-8). Visible improvements to the skin can be seen after a course of treatments. A series of tiny injections improves skin elasticity (2-6), hydration (3), firmness (3) and reduces skin roughness (6).
For more information on the "Proof in Real Life" campaign visithttp://www.ProofIRL.com/
More on Hyaluronic acid:
The Restylane gels resemble your body's own Hyaluronic acid. Hyaluronic acid (HA) is one of nature's most versatile substances, it has many functions, including giving our skin elasticity and volume. Hyaluronic acid is a sugar molecule that exists naturally in many organisms.
About Galderma
Galderma is a global company founded in 1981 committed to delivering innovative medical solutions to meet the dermatological needs of people throughout their lifetime, while serving healthcare professionals around the world. The company has 34 wholly-owned affiliates with a worldwide network of distributors and more than 5,500 employees. Galderma's extensive product portfolio is available in 80 countries and treats a range of dermatological conditions including: acne, rosacea, onychomycosis, psoriasis and steroid-responsive dermatoses, pigmentary disorders, skin cancer and medical solutions for skin senescence.
Galderma is the operating company of Nestlé Skin Health, a global leader focused on enhancing the quality of life by delivering science-based solutions for the health of skin, hair and nails. Five state-of-the-art R&D centers and six manufacturing sites are dedicated to providing a wide range of innovative medical solutions which meet the highest standards of safety and efficacy.
Strategic Galderma brands include Epiduo®, Oracea®, Differin®, Mirvaso®, Soolantra®,Tri-Luma®, Loceryl®, Cetaphil®, Metvix®, Azzalure®/ Dysport®, Restylane® and Emervel®.
About Restylane
Restylane is a range of products for facial aesthetic treatments to efficiently reduce lines, folds and wrinkles, create fuller lips, enhance contours and facial volume, as well as improve skin quality, structure and elasticity. Restylane is the safe and natural way to enhance your looks. With over 20 million treatments worldwide and an extensive clinical documentation, the products are scientifically proven to give natural results with long-lasting effects, depending on treatment area. The Restylane range is designed to complement the varying stages of facial ageing to provide natural-looking results.
Within the Restylane range there are two main product ranges;
• Restylane fillers, designed to enhance facial features, from targeted superficial filling of wrinkles to deeper facial shaping and contouring
• Restylane Skinboosters, a fresh approach to skin rejuvenation, designed to deliver hydration
References
1. Galderma Restylane filler Data on File (1)
2. Kerscher M et al. Dermatol Surg 2008;34:1–7
3. Williams S et al. J Cosmetic Derm 2009;8:216–225
4. Distante F et al. Dermatol Surg 2009;35:389–394
5. Gubanova EI et al. Esteticheskaya Meditsina, 2010; 1:94-98
6. Streker M et al. J Drugs Dermatol 2013; 12(9):990–994
7. Halachmi, S et al. J Drugs Dermatol 2013;12(7):121–123
8. Landau, M. J Drugs Dermatol 2012; 11(suppl 3):41–43
9. Narins RS et al. Dermatol Surg 2011;37(5):644–650
10. Narins RS et al. Dermatol Surg 2008;34:2–8
11. Galderma Restylane filler Data on File (2)
12. Galderma Press Release (Feb 26,2014) "New Clinical Survey Reveals Consumer Trends"
13. International Society of Aesthetic Plastic Surgery, www.isaps.org